Mudjacking & Slab Jacking in Greater Toronto
Mudjacking
(also known as):
Slab Jacking
Concrete Lifting
Concrete Raising
Grout pumping
Slab leveling
As patios, walkways, driveways, and concrete steps sink, they can crack and create uneven surfaces. Sinking concrete is unsightly, and it can create a tripping hazard.
Canadian Concrete Leveling offers a faster, more effective, and non-invasive approach to concrete leveling with PolyLevel®. The PolyLevel® system involves injecting an expanding polymer foam under the concrete for a durable, long-lasting solution.
Traditionally, this problem is often repaired by a process called mud jacking- a repair technique for lifting concrete slabs that have settled over time with a mortar-based mix.
Mudjacking is not only a temporary fix, but the process is extremely messy, invasive and requires time to cure so the repaired areas cannot be used immediately. Mudjacking also puts more weight on an already suspect substrate. 1 cubic foot can weigh up to 100lbs whereas 1 cubic foot of PolyLevel weighs 2lbs.
Our proven Polyurethane Injection System is a non-invasive, fast and permanent solution. It addresses all the issues that caused your concrete to sink in the first place.
If you're interested in learning more about what PolyLevel® can do for you, call us for a free quote for our PolyLevel® alternative to mud jacking in Toronto, Markham, Mississauga and nearby.
When is mudjacking NOT appropriate?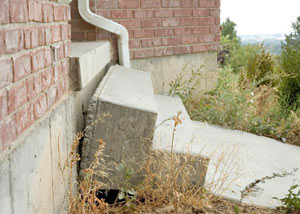 These concrete steps have suffered from severe settling over time and have separated from the foundation structure.
Mudjacking is effective for heavier concrete structures when used in conjunction with slab piers. It should not be considered as a standalone solution to lifting a footing or floor slab that has settled in your home.
In most cases, mud jacking alone will not be able to lift both a slab and the heavy partition walls that sit on top of it. In cases where mudjacking isn't effective, we often recommend installing slab piers instead.
If mudjacking does lift the concrete slab, it may be difficult to control where mudjacking lifts the walls, causing them to lift unevenly.
More importantly, this kind of concrete repair solution is temporary. Even with the voids filled, the soil below is likely to continue settling over time. Ultimately, you'd have to call your contractor to your home over and over again to repeat the mud jacking process -- or call someone who can use a different solution that can fix it once and for all!
Mudjacking is also not appropriate as a "do-it-yourself" repair. Mudjacking requires special equipment and professional experience. All work should be done through a trained, professional mud jacking contractor who has excellent knowledge of local soil conditions.
Canadian Concrete Leveling is Greater Toronto's trusted concrete repair contractor. Schedule a quote in Toronto, Markham, Mississauga, Kingston, Brampton, Vaughan, Belleville, Oshawa, Trenton, Richmond Hill or nearby to learn more about why PolyLevel® is our top choice for repairing sinking driveways, sidewalks and more!
Looking for a price? Get a no cost, no obligation free estimate.